Blog
Most anticipated #LoveOzYA reads due out in 2022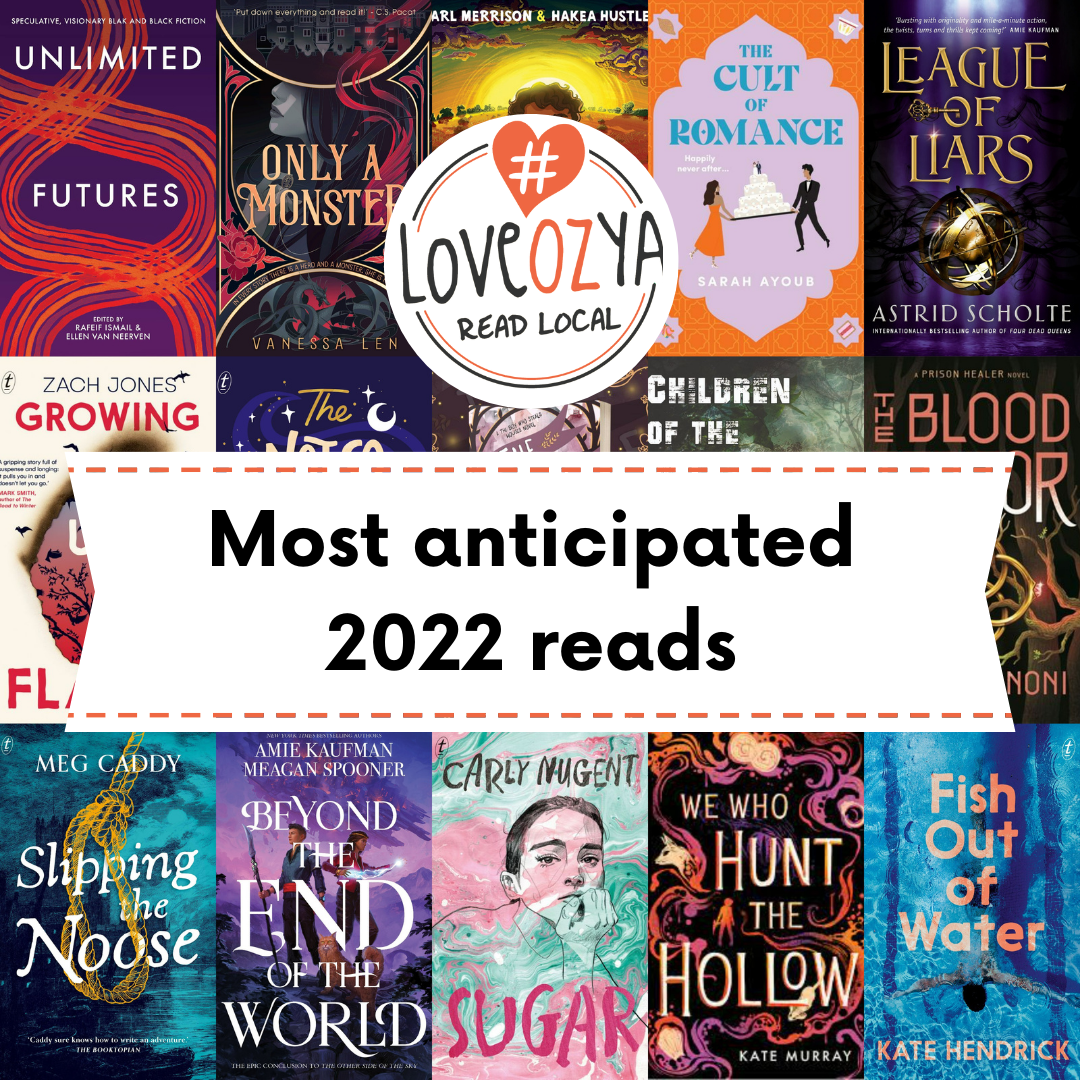 By Alexandra Patrikios
What do thrillers, serial killers, and theatre kids all have in common?
If you said a well-earned appreciation for timing, you wouldn't be wrong.
But if you said all three are surprisingly well represented by 2022's slate of Australian young adult releases, you'd be entirely right.
In the theatre corner, we've got tales of amateur Shakespeare and Chicago productions, and a young lesbian trying to win a writing gig on SNL.
In the thriller camp, it's a little darker: missing students, dark forests with dark secrets, and inmates languishing behind bars in a magical prison.
And those pesky serial killers? Why, they're tearing through a fantasy-charged London, as well as Washington DC in 1943. . .
But that's a mere snippet of the varied and vibrant #LoveOzYA titles due out in 2022.
We've got eye-catching debuts, including from a suite of Text Prize-related alum, sophomore efforts from members of the class of 2021 (see: Tobias Madden; Rhiannon Wilde; Lyndall Clipstone, and more), and new work due from some of Australian YA's biggest hitters (Holden Sheppard and Lynette Noni, we're looking at you).
So, buckle up, and read on, to learn more about some* of the brilliant #LoveOzYA titles you'll be ordering, borrowing, dog-earing, and loving in the weeks and months ahead. . .
*We've done our best to summarise the 2022 releases on our radar, but if you've got intel on one that isn't listed, please get in touch.
---
January – February
Fantasy, it seems, is the opening course for the year's #LoveOzYA feast.
Kicking things off in January, Amie Kaufman and Meagan Spooner will be celebrating the release of their hotly anticipated The Other Side of the Sky sequel, BEYOND THE END OF THE WORLD, which reacquaints readers with Prince North, who has been raised in a city suspended in the sky by inventive technological feat, and, Nimh, a living goddess to her surface-dwelling people.
Melbourne-based author Vanessa Len will continue the fantastical trend in February with the arrival of her debut ONLY A MONSTER, which follows 16-year-old Joan as she's sent to stay with her late mother's eccentric family in London – a change of scenery that seems promising at first, thanks to her nerdy job at a historic home, Holland House, and a mutual attraction with her cute coworker, Nick. But things take a supernatural turn when Joan discovers her family is one of 12 families in London who possess secret, and terrifying, powers. . .
For non-fantasy fans, there's also something to look forward to, come 1 February: Kate Hendrick, author of The Accident and The Finder, returns with FISH OUT OF WATER, the story of elite teen swimmer Finn, who is grappling with with the pressures of teenage life, and the impact of his abusive father's disappearance.
And not to be left out: C.G Drews has also started 2022 by releasing The Boys Who Steals Houses sequel KINGS OF NOWHERE via Patreon.
---
March
Fans of Vikki Wakefield and Mark Smith are advised to keep their eyes peeled in March for Zach Jones' debut, GROWING UP IN FLAMES – a gritty, realist novel set in a fictional rural town of Kimba (heavily inspired by the Northern Rivers region of NSW) that tackles identity, trauma, and the experience of children who are responsible for caring for a mentally unwell parent.
Astrid Scholte fans can also mark their calendars for March: the Four Dead Queens scribe will be back with LEAGUE OF LIARS, a fantasy thriller that centres on Cayder Broduck, a 17-year-old whose single-minded commitment to punishing illegal users of magic is put to the test when he's tasked with defending three inmates of Vardean, a magical prison set between the world and another dimension.
Kate Murray's Ampersand shortlisted WE WHO HUNT THE HOLLOW will also hit shelves in March, kicking off the story of Priscilla Daalman, a young monster hunter so desperate to live up to her family's reputation as legendary warriors, she attempts a dangerous ritual to enhance her powers.
If COVID life hasn't turned you off reading the word 'virus' too much, Michael Grey's CHILDREN OF THE WIND could tickle the fancy of speculative fiction fans, as protagonist Matthew journeys beyond his village, into an unknown wilderness, in search of a cure for a deadly virus threatening everyone he loves.
A much-needed #LoveOzYA comedy will also arrive in March in the form of Adelaide-based YA author Allayne Webster's THAT THING I DID, that offers up this, curiosity-piquing slugline: "Five misfits hit the road in a haunted hearse, on a madcap road-trip from their prison-bordering suburb behind the 'Mullet-Proof Fence' to small-town Mount Gambier."
And last, but most certainly not least – the much-anticipated anthology, UNLIMITED FUTURES: SPECULATIVE, VISIONARY BLAK, AND BLACK FICTION. Young readers will no doubt relish this collection of visionary speculative fiction from 21 emerging and established First Nations and Black writers "reflecting visionary pasts, hopeful futures, and "the invisible ties between First Nations people and People of Colour".
---
April – May
#LoveOzYA readers with an interest in stories that explore chronic health conditions should keep an eye out for Carly Nugent's SUGAR, due out at the start of April. Inspired by The Peacock Detectives author's lived experience of diabetes, SUGAR's 16-year-old protagonist Persephone is "angry at the necessity of finger-prick tests, carbohydrate counts, and insulin injections" and haunted by a decision in her past.
Valentine fans will also have a new contemporary tale from Jodi McAlister to look forward to in May: LIBBY LAWRENCE IS GOOD AT PRETENDING, a theatre-kid romp inspired by 90s teen comedies like 10 Things I Hate About You and Clueless that should appeal to those keen for university-set local YA.
The Yearbook Committee author Sarah Ayoub will be back with a new YA offering in 2022, THE CULT OF ROMANCE, which finds leading lady Natalie traumatised by her parents' failed marriage and overwhelmed by her grandmother's expectations of good Lebanese girls — marriage, motherhood and exceptional tabouli-making skills. Natalie is put to the test when her best friend decides to marry a man she barely knows, setting off a rigmarole of wedding preparations. . .
Also hitting shelves in April, Daisy Utemorrah Award 2019 shortlisted title TRACKS OF THE MISSING from Carl Merrison and Hakea Hustler will continue 2022's trend of local YA with a healthy dose of suspense.
The latest offering from the Black Cockatoo scribes tells the story of Deklan 'Dek' Archer, a promising footy player who arrives at school one day to find long-time local 'Old Mate', Mr Henry, has been found murdered, and the Year 12s, who were on camp, are now missing. The police think there is a link between the missing students and the murder, and Deklan's grandfather, a renowned tracker, wants him to go bush to find out more. . .
And for those with a taste for the high seas: Meg Caddy's SLIPPING THE NOOSE vividly realises the tale of Anne Bonny, a notorious female buccaneer, for the benefit of younger readers.
---
June
June heralds the arrival of three tantalising YA debuts, plus the latest fantasy pageturner from one of the most celebrated Australian YA writers around.
Firstly, the debuts:
Lauren Draper will celebrate the release of her 2021 Text Prize shortlisted THE MUSEUM OF BROKEN THINGS, which follows Reece, a reluctant new resident of Hamilton, a small beachside town. When Reece inherits a strange artefact that belonged to her beloved grandmother, she begins to unravel a mystery that might change the way she feels about everything around her, including her charismatic classmate Gideon.
Hayli Thomson's COMEDIENNE'S GUIDE TO PRIDE, which should appeal to fans of Red, White, and Royal Blue, tells the story of Taylor Parker: a writer who ticked the LGBTQ box on a writing prize application without thinking, and now has to reckon with the fact she'll need to be out to win.
And while he's not a debut author, Mike Lucas will make his YA debut with WHAT WE ALL SAW, a suspenseful coming-of-age novel in the spirit of Stephen King, that blends horror and humour, and may or may not include witches.
Very much not making her young adult debut in June is Lynette Noni, back with the third instalment of her Prison Healer series, THE BLOOD TRAITOR, which finds Kiva challenged to fight for what she believes in, and the lives of everyone she loves at risk.
---
July
Another Text Prize shortlisted title will be with the world in July in the form of Kate Emery's THE NOT SO CHOSEN ONE – a premise that, at first blush, evokes a YA take on The Magicians, plus an unplanned pregnancy subplot? When teenager Lucy hears about Drake's College, a school for students with magical talent, she's sure someone's messing with her. But despite her scepticism, she's soon swept up into a world beyond her wildest imaginings — and now she's got something else to hide.
Mette Jakobsen's THE SNOW LAUNDRY promises to be a captivating, fast-paced thriller set in a dystopian world not so different from our own. It follows 16-year-old Ally, who is one of 400 homeless young people who has been promised new and better lives in exchange for their votes. When Ally's boyfriend Bon vanishes into thin air, her search for him leads her to discovering that the homeless kids are really lab rats intended for scientific testing.
And fans of Karen Ginnane's When Days Tilt will be happy to learn the sequel, WHEN SOULS TEAR, is due on shelves in July. Ava is no closer to completing the task her dying mother set her – destroying the remaining time snatchers and ending snatching in two worlds. With her father and Phoebe suffering the effects of being torn and Jack back in Donlon, Ava is on her own. . .
---
August
Details are scant for THE BRINK, the highly anticipated second novel from Invisible Boys author Holden Sheppard due out in August; in Sheppard's own words, it's "a coming-of-age novel about being a misfit and what it means to want to burn yourself down."
An interstate move doesn't offer a teenage girl the fresh start she'd hoped for in Miranda Luby's 2021 Text Prize shortlist title, SADIE STARR's GUIDE TO STARTING OVER, which was awarded a place in the ACT Writers Centre's professional development program, HARDCOPY, and an Australian Society of Authors Award Mentorship as a manuscript.
THE HIDDEN GIRL from debut author Louise Bassett takes readers from Australia to the Indonesian island of Java, where the discovery of a stolen diary reveals a coded message from Devi, a teenage girl being held by traffickers.
Rachel Hennessy will conclude The Burning Days series with CITY KNIFE, which will reunite readers with the feisty heroine, Pan, to reveal errors of the past as the future continues to be threatened by creatures half-human and half-beast.
And Rhiannon Wilde will be back after the success of her debut, Henry Hamlet's Heart, with WHERE YOU LEFT US, a story set in a rambling seaside mansion that follows two sisters coming to terms with their rockstar father's most recent breakdown.
In Rhiannon's words: "WHERE YOU LEFT US is a mystery-coming-of-age-romance that was initially inspired by my living back by the sea on 2020 and thinking about what it means to belong to a place where you grew up. It's about sisters, mental health, love and hate, history, and ghosts; think Wuthering Heights meets Sherlock Holmes, if Kristen Stewart played Heathcliff and Holmes and Watson were teenagers with social anxiety – all set on the beach."
---
September
You heard it here first, folks – September is shaping up to be a bumper #LoveOzYA month.
Ellie Marney, no doubt still riding high from the local and international success of her masterfully creepy None Shall Sleep, will be back with THE KILLING CODE, a historical thriller that seems to have Big-Budget Netflix Adaptation written all over it, judging by the blurb:
Virginia, 1943: World War II is raging in Europe and on the Pacific front when Kit Sutherland is recruited to help the war effort as a codebreaker at Arlington Hall, a former girls' college now serving as the site of a secret US Signal Intelligence facility.
Kit is soon involved in another kind of fight: Government girls are being brutally murdered in Washington DC, and when Kit stumbles onto a bloody homicide scene, she is drawn into the hunt for the killer.
To find the man responsible and bring him to justice, Kit must join forces with other girl codebreakers at Arlington Hall – gossip queen Dottie Crockford, sharp-tongued intelligence maven Moya Kershaw, and cleverly resourceful Violet DuLac, from the segregated codebreaking unit on the grounds of the Hall.
But as the girls pool their energies, and find friendships – and romance – that they never expected, two things begin to come clear: The murderer they're hunting is getting closer every minute…and Kit herself is hiding an unbelievable secret.
In a similarly homicidal vein, House of Hollow and Chemical Hearts author Krystal Sutherland will return with THE INVOCATIONS, a fantasy thriller set in a world where only women can use magic and the men who know about it seek to eradicate them. The story follows tree lonely teenage girls – one cursed, one hunted, one out for revenge – team up to track down and take out a brutal supernatural killer.
J.A Cooper will release YA debut, SOMETHING ABOUT ALASKA, a realistic novel the follows Zac Greene as he travels to Alaska to re-connect with the father he's only ever known from a distance. Eventually, things spiral out of control, forcing Zac to take his chances with the hash Alaskan winter, hitchhiking to escape the hostile weather and finding himself sharing a remote cabin with a total stranger. . . and his gun.
Tobias Madden won a slew of fans with his 2021 debut, Anything But Fine, and is likely to win quite a few more with his follow up, TAKE A BOW, NOAH MITCHELL, when it arrives in bookstores in September. The premise is irresistibly fun: "A 17-year-old gamer goes undercover in a local production of the musical Chicago (with his overbearing mother playing the lead role, no less) in order to get his online crush to fall in love with him."
In a different lyrical vein, Lyndall Clipstone will release FORESTFALL, the sequel to gothic fantasy, Lakesedge.
And last, but certainly not least, Alice Boyle 2021 Text Prize winner, DANCING BAREFOOT, which will introduce readers to Patch, a scholarship student who is out of place at Mountford College, and suffering from an embarrassingly persistent crush on Evie Vanhoutte, popular girl and golden child.
---
October
Fans of the charming It Sounded Better in My Head will be relieved to hear a new story from Nina Kenwood is due out in October.
And although it's not expressly YA, an anthology entitled COMPULSION: LIVING WITH OCD featuring five long-form memoir essays from people who have been diagnosed and come to terms with living with OCD may illuminate the condition for younger readers.
Release dates to be confirmed:
AViVA will release the sequel to Self/Less with the arrival of RELENT/LESS.
Davinia Evans' NOTORIOUS SORCERER promises high-stakes magic, set in a world where Inquisitors police alchemy with brutal efficiency after a city was shaken half into the sea by a magical earthquake.
Romcom master Sophie Gonzales will be back with reality TV-themed NEVER GETTING BACK TOGETHER, while Sophie's If This Gets Out collaborator Cale Dietrich will release a "gay frat boy slasher" called THE PLEDGE.
---
Plan your 2022 reads by genre:
Contemporary
FISH OUT OF WATER by Kate Hendricks
THAT THING I DID by Allayne Webster
GROWING UP IN FLAMES by Zach Jones
SUGAR by Carly Nugent
LIBBY LAWRENCE IS GOOD AT PRETENDING by Jodi McAlister
THE CULT OF ROMANCE by Sarah Ayoub
THE MUSEUM OF BROKEN THINGS by Lauren Draper
THE COMEDIENNE'S GUIDE TO PRIDE by Hayli Thomson
COMPLETELY NORMAL (AND OTHER LIES) by Biffy James
THE BRINK by Holden Sheppard
SADIE STARR'S GUIDE TO STARTING OVER by Miranda Luby
TAKE A BOW, NOAH MITCHELL by Tobias Madden
NEVER GETTING BACK TOGETHER by Sophie Gonzales
KINGS OF NOWHERE by C.G Drews
DANCING BAREFOOT by Alice Boyle
WHERE YOU LEFT US by Rhiannon Wilde
SOMETHING ABOUT ALASKA by J.A Cooper
WHEN ONLY ONE by Meg Gatland-Veness
Fantasy
BEYOND THE END OF THE WORLD by Amie Kaufman and Meagan Spooner
ONLY A MONSTER by Vanessa Len
LEAGUE OF LIARS by Astrid Scholte
WE WHO HUNT THE HOLLOW by Kate Murray
THE BLOOD TRAITOR (PRISON HEALER #3) by Lynette Noni
THE NOT SO CHOSEN ONE by Kate Murray
WHEN SOULS TEAR (TIME CATCHER #2) by Karen Ginnane
THE ALLURE OF POWER (THE TRAVELLERS BOOK #2) by Ektaa Bali
SILVERBORN: THE MYSTERY OF MORRIGAN CROW (NEVERMOOR #4) by Jessica Townsend
FORESTFALL by Lyndall Clipstone
NOTORIOUS SORCERER by Davinia Evans
RELENT/LESS by AViVA
Crime, thriller, horror, and speculative
TRACKS OF THE MISSING by Carl Merrison and Hakea Hustler
CHILDREN OF THE WIND by Michael Grey
WHAT WE ALL SAW by Mike Lucas
THE KILLING CODE by Ellie Marney
THE INVOCATIONS by Krystal Sutherland
THE PLEDGE by Cale Dietrich
CITY KNIFE by Rachel Hennessy
THE SNOW LAUNDRY by Mette Jakobsen
Historical

SLIPPING THE NOOSE by Meg Caddy
Anthology
UNLIMITED FUTURES: SPECULATIVE, VISIONARY BLAK, AND BLACK FICTION edited by Rafeif Ismail and Ellen van Neerven with Hella Ibrahim
COMPULSION: LIVING WITH OCD by Various
---