Blog
LoveOzYA for Australian Reading Hour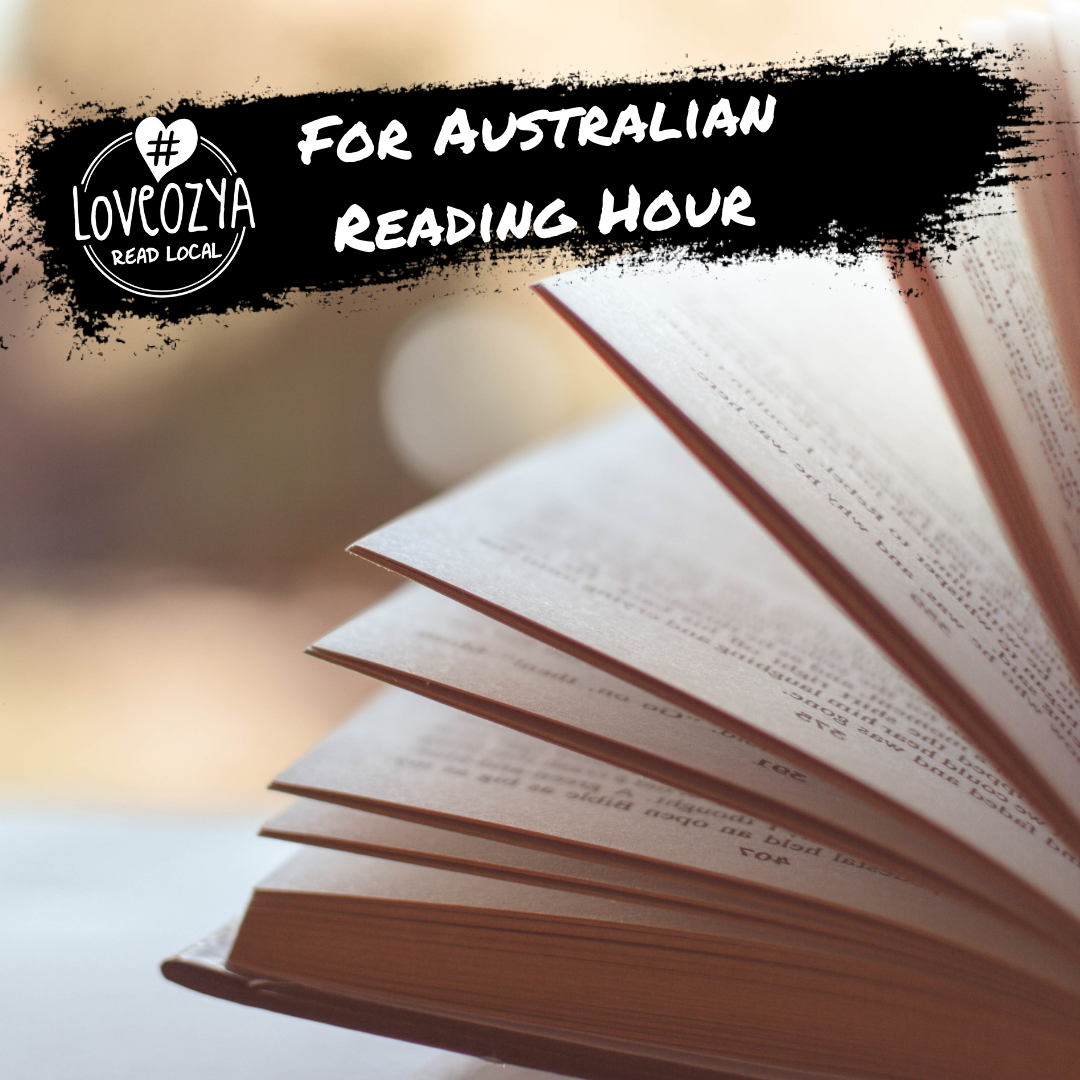 This Thursday, 19 September, is Australian Reading Hour, the day when all Australians, young and old, are encouraged to set aside an hour to enjoy a good book and celebrate the benefits of reading.
And what better way to spend Australian Reading Hour than by delving into some homegrown Aussie YA?
To help Australian readers find their perfect Oz YA read for the day, we asked you, the community, to vote for your favourite books. We were aiming for a top ten, but we tallied the votes and you gave us a top thirteen! (And who are we to argue with extra love for Oz YA?)
And what a list you gave us! From contemporary to fanatsy, sci-fi and #ownvoices, there are books to suit all reading tastes and interests, arranged below alphabetically by author surname.
We hope the list inspires you to spend an hour with an Aussie YA book on Thursday!
by A J Betts
Pan Macmillan Aus.
'All I can tell you is what I remember, in the words that I have.
Hayley tends to her bees and follows the rules in the only world she has ever known. Until she witnesses the impossible: a drip from the ceiling. A drip? It doesn't make sense. Yet she hears it, catches it. Tastes it. Curiosity is a hook. What starts as a drip leads to a lie, a death, a boy, a beast, and too many awful questions.
Hive is the first in a gripping two-book series by award-winning and international bestselling author A. J. Betts.'
edited by Danielle Binks
Harper Collins Aus.
'Bestsellers. Award-winners. Superstars.
This anthology has them all.
With brilliantly entertaining short stories from beloved young adult authors Amie Kaufman, Melissa Keil, Will Kostakis, Ellie Marney, Jaclyn Moriarty, Michael Pryor, Alice Pung, Gabrielle Tozer, Lili Wilkinson and Danielle Binks, this all-new collection will show the world exactly how much there is to love about Aussie YA.'
by Wai Chim
Allen & Unwin
'A novel about growing up in a migrant Asian family with a mother who is suffering from a mental illness, from the highly commended author of Freedom Swimmer.
Anna Chiu has her hands pretty full looking after her brother and sister and helping out at her dad's restaurant, all while her mum stays in bed. Dad's new delivery boy, Rory, is a welcome distraction and even though she knows that things aren't right at home, she's starting to feel like she could just be a normal teen.
But when Mum finally gets out of bed, things go from bad to worse. And as Mum's condition worsens, Anna and her family question everything they understand about themselves and each other. A nourishing tale about the crevices of culture, mental wellness and family.'
by C G Drews
Hachette Aus.
'Can two broken boys find their perfect home? By turns heartbreaking and heartwarming, this is a gorgeously told, powerful story.
Sam is only fifteen but he and his autistic older brother, Avery, have been abandoned by every relative he's ever known. Now Sam's trying to build a new life for them. He survives by breaking into empty houses when their owners are away, until one day he's caught out when a family returns home. To his amazement this large, chaotic family takes him under their wing – each teenager assuming Sam is a friend of another sibling. Sam finds himself inextricably caught up in their life, and falling for the beautiful Moxie.
But Sam has a secret, and his past is about to catch up with him.'
edited by Michael Earp
Walker Books Aus.
'What does it mean to be queer? What does it mean to be human? In this powerful #LoveOzYA collection, twelve of Australia's finest writers from the LGBTQ+ community explore the stories of family, friends, lovers and strangers – the connections that form us. This inclusive and intersectional #OwnVoices anthology for teen readers features work from writers of diverse genders, sexualities and identities, including writers who identify as First Nations, people of colour or disabled. With short stories by bestsellers, award winners and newcomers to young adult fiction including Jax Jacki Brown, Claire G Coleman, Michael Earp, Alison Evans, Erin Gough, Benjamin Law, Omar Sakr, Christos Tsiolkas, Ellen van Neerven, Marlee Jane Ward, Jen Wilde and Nevo Zisin.'
by Helena Fox
Pan Macmillan Aus.
'Biz knows how to float. She has her people, posse, her mum and the twins. She has Grace. And she has her dad, who tells her about the little kid she was, and who shouldn't be here but is. So Biz doesn't tell anyone anything. Not about her dark, runaway thoughts, not about kissing Grace or noticing Jasper, the new boy. And she doesn't tell anyone about her dad. Because her dad died when she was seven. And Biz knows how to float, right there on the surface – normal okay regular fine.'
by Amie Kaufman and Jay Kristoff
Allen and Unwin
'Kady and Ezra thought their break-up was messy until they witnessed their entire world literally falling apart. Now they're piecing together what's left of their lives, and their romance, and trying to survive an intergalactic war.
…
The year is 2575, and two rival mega-corporations are at war over a planet that's little more than an ice-covered speck at the edge of the universe. Too bad nobody thought to warn the people living on it. With enemy fire raining down on them, exes Kady and Ezra are forced to escape on the evacuating fleet.
But the warship is the least of their problems. A deadly plague has broken out and is mutating, with terrifying results. The fleet's AI, which should be protecting them, may actually be their enemy; and nobody in charge will say what the hell is going on. As Kady hacks into a tangled web of data to find the truth, it's clear only one person can help her bring it all to light: the ex-boyfriend she swore she'd never speak to again.
Illuminae is the first book in a heart-stopping, high-octane trilogy about lives interrupted, the price of truth and the courage of everyday heroes.'
by Hayley Lawrence
Penguin Random House Aus.
'A powerful first novel dealing with life, loss and the redemptive power of love.
It's not because Bel's mother was murdered.
It's not because her father is a politician.
Bel writes to a Death Row prisoner as an easy way out of an assignment.
But now he's written back.

Drawn to Micah's world inside a Thai prison, Bel finds herself falling for the boy with ragged hair, shackles and a terrible past. But is she setting herself up for more loss? And will loving him mean losing the people who mean the most to her at home?'
by Nattie Kate Mason
Independent author
'An heir to the magically gifted Kingdom of Alearia must be chosen. The shape-shifting Prince Alexander is favored to claim the title. The fire wielding sisters Princess Anastasia and Princess Alecia feel that one of them will take-out the crown. However, the eldest potential heir, Princess Agnes, has other plans. The current ruler of Alearia; Queen Amealiana, a gifted sage and prophetic, has a hidden secret, that will change everything. If you love high fantasy novels, packed full of magic, suspense, betrayal, death, healing, royalty and competition, 'The Crowning' series is for you.'
by Lynette Noni
Pantera Press
'With just one step, sixteen-year-old Alexandra Jennings' world changes – literally.
Dreading her first day at a new school, Alex is stunned when she walks through a doorway and finds herself stranded in Medora, a fantasy world full of impossibilities.
Desperate to return home, she learns that only a man named Professor Marselle can help her… but he's missing.
While waiting for him to reappear, Alex attends Akarnae Academy, Medora's boarding school for teenagers with extraordinary gifts. She soon starts to enjoy her bizarre new world and the friends who embrace her as one of their own, but strange things are happening at Akarnae, and Alex can't ignore her fear that something unexpected… something sinister… is looming.
An unwilling pawn in a deadly game, Alex's shoulders bear the crushing weight of an entire race's survival. Only she can save the Medorans, but what if doing so prevents her from ever returning home?
Will Alex risk her entire world – and maybe even her life – to save Medora?'

by Shivaun Plozza
Penguin Random House Aus.
'Frankie Vega is angry. Just ask the guy whose nose she broke. Or the cop investigating the burglary she witnessed, or her cheating ex-boyfriend or her aunt who's tired of giving second chances . . .
Frankie Vega is angry. Just ask the guy whose nose she broke. Or the cop investigating the burglary she witnessed, or her cheating ex-boyfriend or her aunt who's tired of giving second chances . . .
When a kid shows up claiming to be Frankie's half brother, it opens the door to a past she doesn't want to remember. And when that kid goes missing, the only person willing to help is a boy with stupidly blue eyes . . . and secrets of his own.
Frankie's search for the truth could change her life, or cost her everything.'
by Astrid Scholte
Allen and Unwin
'Four Queens. A divided nation. A ruthless pickpocket. A noble messenger. And the murders that unite them.
Seventeen-year-old Keralie Corrington is one of Quadara's most skilled thieves, but when she steals an unexpectedly valuable package from a messenger she is soon entangled in a conspiracy that leads to all four of Quadara's queens being murdered.
With no other choices and on the run from her former employer, Keralie teams up with Varin Bollt, the Eonist messenger she stole from, and together they race to discover who has killed the queens. But when dark secrets threaten their reluctant partnership and put everything at stake, Keralie and Varin must use all their daring to stay alive and untangle the mysteries behind the nation's four dead queens.
An enthralling fast-paced murder mystery where competing agendas collide with deadly consequences, Four Dead Queens heralds the arrival of an exciting new YA talent.'
by Jen Wilde
Pan Macmillan Aus.
'Charlie likes to stand out. She's a vlogger and actress promoting her first movie at SupaCon, and this is her chance to show fans she's over her public breakup with co-star Reese Ryan. When internet-famous cool-girl actress Alyssa Huntington arrives as a surprise guest, it seems Charlie's long-time crush on her isn't as one-sided as she thought.
Taylor likes to blend in. Her brain is wired differently, making her fear change. And there's one thing in her life she knows will never change: her friendship with her best guy friend Jamie – no matter how much she may secretly want it to. But when she hears about a fan contest for her favourite fandom, she starts to rethink her rules on playing it safe.'
Share the Aussie YA books you choose to spend Australian Reading Hour with using #LoveOzYA and #readinghour!
---
Tags:
Akarnae
,
Australian Reading Hour
,
Australian YA
,
Begin End Begin
,
Four Dead Queens
,
Frankie
,
Hive
,
How It Feels to Float
,
Illuminae
,
Inside the Tiger
,
Kindred 12 Queer LoveOzYA Stories
,
Queens of Geek
,
The Boy Who Steals Houses
,
The Crowning
,
The Surprising Power of a Good Dumpling
,
YA recommendations